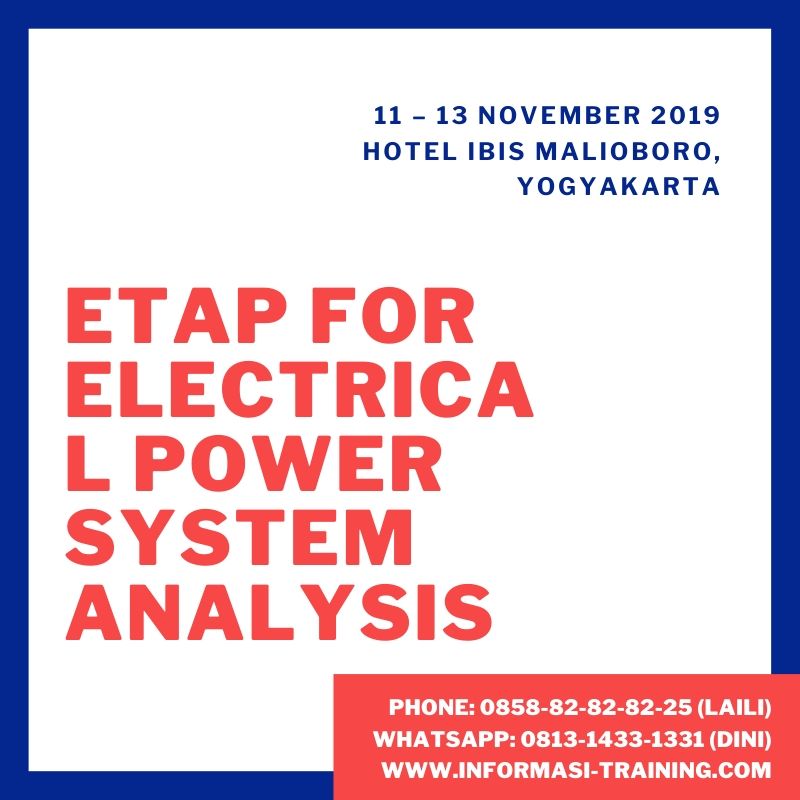 Training Electrical Power System Analysis ini akan membahas dasar Transmisi dan Distribusi menggunakan ETAP
JADWAL TRAINING ONLINE
Online Training | 26 – 27 Oktober 2020 | Rp 2.900.000,-
Online Training | 16 – 17 November 2020 | Rp 2.900.000,- PASTI JALAN
Jadwal Online Training Selanjutnya …
JADWAL TRAINING KELAS
Hotel Ibis Malioboro, Yogyakarta | 07 – 09 Desember 2020 | Rp 6.900.000,-
Hotel Ibis Malioboro, Yogyakarta | 21 – 23 Desember 2020 | Rp 6.900.000,-
Jadwal Training 2020 Selanjutnya …
Tujuan Training Electrical Power System Analysis Using ETAP
Pelatihan ini ditujukan untuk ahli listrik, operator sistem, Engineering untuk memperkenalkan dasar – dasar Transmisi dan Distribusi menggunakan ETAP. Pelatihan ini memberikan keterampilan, pengetahuan, dan teknik yang diperlukan untuk menjadi ahli dalam ETAP untuk melakukan permodelan analisis.
Tujuan Training Electrical Power System Analysis Using ETAP
Pelatihan ini bertujuan memberikan keterampilan, pengetahuan yang menyeluruh tentang ETAP dan teknik analisis untuk memecahkan berbagai masalah dalam pratek.
Materi Training Electrical Power System Analysis Using ETAP
Building One-Line Diagram Using ETAP. (Add Elements, Select & Deselect Elements, Element and Connector Colors, Relocate Elements, Cut, Copy, & Paste, Size, Symbol, & Orientation, Protective Devices, Nodes & Buses, Group & Ungroup, Composite Networks)
Load Flow Calculation Methods. (Newton-Raphson, Fast-Decoupled, Gaus-Siedel)
Load Flow Study Using ETAP. (Load Flow Toolbar, Load Flow Study Case Editor, Load Flow Display Options, Load Flow Calculation Methods, Load Flow Required Data, Load Flow Output Reports)
Fault Calculation Methods. (Impedance Methode, Symetrical Component Methode)
Short-Circuit Analysis. (Short-Circuit Toolbar, Short-Circuit Study Case Editor, Short-Circuit Display Options, Short-Circuit Required Data, Short-Circuit Output Reports)
Motor Starting Analysis. (Motor Starting Methods, Motor Starting Calculation)
Motor Starting Analysis Using

ETAP

. (Motor Starting Toolbar, Motor Starting Study Case Editor, Info Page, Model Page, Time Event Pages, Add Action by Starting Category, Add Action by Load, Motor Starting Display Options, Motor Starting Calculation Methods, Motor Starting Required Data, Motor Starting Output Reports, Motor Starting Time Slider Toolbar)
Transient Stability Anaysis. (Purpose for Performing Transient Stability Study, Power System Stability Definition, Stability Limits)
Transient Stability Anaysis Using ETAP. (Transient Stability Toolbar, Transient Stability Study Case Editor, Info Page, Events Page, Dyn Model Page, Transient Stability Plots, Transient Stability Required Data, Transient Stability Output Reports, Transient Stability Time Slider Toolbar)
Harmonic Analysis. (Definition, Harmonic Parameters, Harmonic Sources)
Harmonic Analysis Using ETAP. (Harmonic Analysis Toolbar, Harmonic Analysis Study Case Editor, Harmonic Analysis Display Options, Harmonic Analysis Calculation Methods, Harmonic Analysis Required Data, Harmonic Analysis Output Reports, Harmonic Analysis Order-Slider, Harmonic Analysis Frequency-Slider)
Case and Study
Peserta Training
Para Operator, Teknisi, Engineer dan Supervisor yang ingin memahami dan meningkatkan pengetahuan dalam melakukan analisa system tenaga.
Instruktur Training
Tugino , ST,MT &Tim
JADWAL, METODE, KETENTUAN, INVESTASI DAN FASILITAS ONLINE TRAINING
Jadwal Online Training 2020
26 – 27 Oktober 2020
2 – 3 November 2020
4 – 5 November 2020
6 – 7 November 2020
9 – 10 November 2020
11 – 12 November 2020
13 – 14 November 2020
16 – 17 November 2020
18 – 19 November 2020
20 – 21 November 2020
23 – 24 November 2020
25 – 26 November 2020
27 – 28 November 2020
30 November 2020 – 1 Desember 2020
2 – 3 Desember 2020
4 – 5 Desember 2020
7 – 8 Desember 2020
9 – 10 Desember 2020
11 – 12 Desember 202
14 – 15 Desember 2020
16 – 17 Desember 2020
18 – 19 Desember 2020
21 – 22 Desember 2020
Metode Training Online
Metode pelatihan  online dapat dilakukan dengan dua metode dimana Peserta dapat memilih  metode yang sesuai. Metode tersebut adalah :
Metode Peserta Belajar Online Mandiri  (Asinkron) yaitu:
Peserta mendownload materi pelatihan (dalam bentuk file PPT/PDF/video) dan belajar mandiri dengan waktu belajar diatur sendiri oleh peserta.
Masa aktif tayang setiap materi pelatihan 4 minggu dengan disediakan konsultasi maks 4 jam online dihitung sejak materi mulai ditayangkan.
Apabila diperlukan peserta dapat diskusi atau konsultasi terkait dengan materi yang akan difasilitasi oleh konsultan/trainer melalui berbagai media seperti Google Meet, Hang Out, Zoom, Team link, atau WhatsApp sesuai dengan kesepakatan.
Tersedia paket harga khusus jika ada beberapa orang mendaftar untuk training yang sama dan dari perusahaan yang sama
Metode Live Online Training (Sinkron)  yaitu:
Instruktur mengajar secara LIVE dengan durasi 4 jam perhari selama 2 hari secara terjadwal
Media Live training dapat menggunakan Google Meet, Hang Out, Zoom atau Team link.
Tersedia harga khusus jika training yang sama diikuti oleh beberapa peserta dari perusahaan yang sama
Ketentuan Online Training 
Persiapan Peserta
Dianjurkan menggunakan laptop, bukan smartphone.
Koneksi internet yang stabil.
Buku dan alat tulis.
Platform yang digunakan
Beberapa alternative platform Zoom, Google Meet, Hang Out,  Team link atau Webex untuk conference live training
Materi, tugas dan dokumen lain akan diupload dalam Google Classroom
Peserta menginstall aplikasi sesuai yang akan digunakan
Investasi dan Fasilitas Online Training
Course Fee Rp 2.900.000
Modul online training
Certificate training Hardcopy dan atau Softcopy
JADWAL, INVESTASI DAN FASILITAS TRAINING KELAS 2020
Jadwal Training 2020
Hotel Ibis Malioboro ,Yogjakarta
9 – 11 November 2020
16 – 18 November 2020
23 – 25 November 2020
30 November 2020 – 2 Desember 2020
7 – 9 Desember 2020
14 – 16 Desember 2020
21 – 23 Desember 2020
28 – 30 Desember 2020
Investasi dan Fasilitas Training Kelas
Rp 6.900.000 (Non Residential)
Jika Perusahaan/ Instansi mengirimkan lebih dari satu peserta pada judul dan tanggal yang sama maka akan di berikan potongan harga pada peserta kedua dan seterusnya masing – masing sebesar Rp 1.000.000 per peserta.
VIP training Rp 8.900.000 (4 Hari , Non Residential dengan tambahan Fasilitas Paket studi lapangan/ City tour dan Belum Termasuk Pajak PPn 10%)
Quota minimum 2 peserta
Fasilitas: Certificate, Training kits, USB, Lunch, Coffe Break, Souvenir
Untuk peserta luar kota disediakan transportasi antar-jemput dari Bandara/ Stasiun ke Hotel khusus bagi perusahaan yang mengirimkan minimal 3 orang peserta)
ELECTRICAL POWER SYSTEM ANALYSIS USING ETAP
About the Author: admin4